Unveiling the Crocs Classic Cowboy Boot: A Game-Changer in Footwear
Crocs, a brand known for its polarising yet iconic clogs and legendary collaborations with giants like Taco Bell and KFC, has just taken a bold step into the world of cowboy boots. The recent release of the Crocs Classic Cowboy Boot on October 5th has sent shockwaves through the fashion industry, and it's clear that these boots are here to make a statement.
The Evolution of Crocs
Crocs, often the subject of love-it-or-hate-it debates, is no stranger to pushing boundaries. With a history of unique designs and daring partnerships, the company has consistently surprised its audience. However, this time, they've ventured into uncharted territory by answering a long-standing request from their fans.
Introducing the Crocs Classic Cowboy Boots
The Crocs Classic Cowboy Boot, their latest innovation, boasts strong western-inspired stitching that pays homage to the cowboy boot's heritage. This design has been one of the most frequently requested shoe styles in the brand's history, and Crocs has delivered with style and flair.
A Touch of Western Charm
What sets these cowboy boots apart is their attention to detail. They're not just shoes; they're a fashion statement. The boots come embellished with spinning spur charms and metallic Jibbitz charms, adding a touch of western charm to your footwear collection. Furthermore, the ventilation holes and a cowboy hat-shaped Crocs logo are subtle yet remarkable additions that demonstrate the brand's dedication to innovation.
Where and How to Get Your Pair
If you're eager to get your hands on the Crocs Classic Cowboy Boot, mark your calendars for October 23rd, also known as Croc Day. The company will release these boots for a limited time, both online and at select Crocs stores. To secure your pair, you can sign up on the waitlist.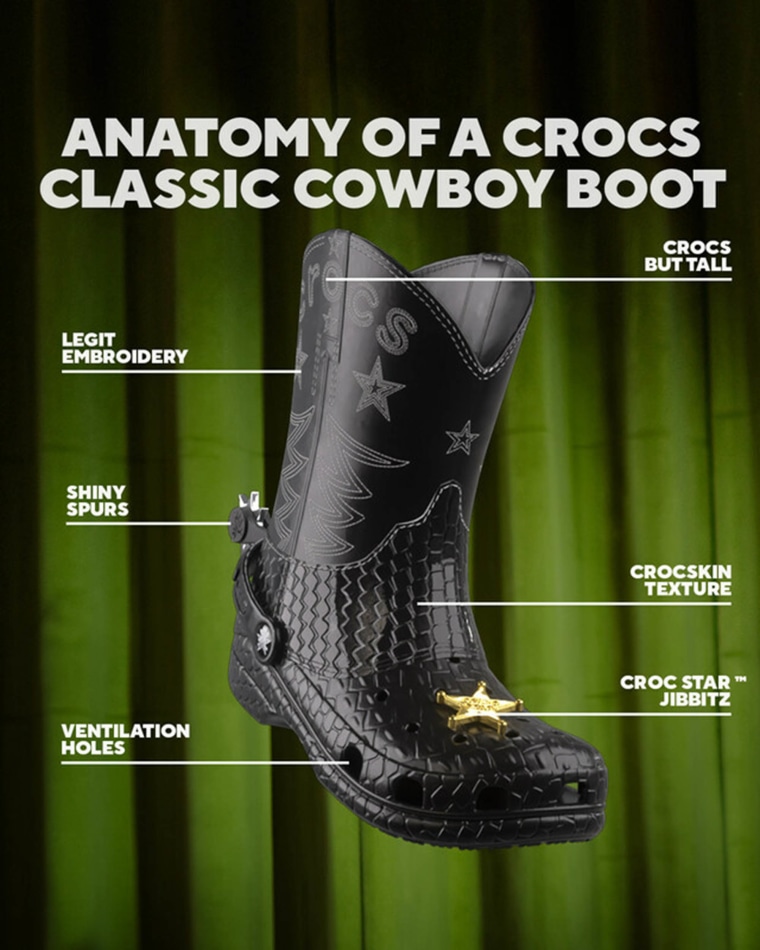 Mixed Reactions from Fans
As with any groundbreaking design, opinions are divided among Crocs fans. Some ecstatically refer to them as "croots" and flood Instagram with pictures wearing their new boots. Others are more sceptical, questioning the brand's decision to delve into cowboy boots. One thing's for sure: these boots have got people talking.
The Social Media Buzz
Social media has been buzzing with comments, both positive and negative. Fans are expressing their excitement and apprehension, while others are making humorous remarks about "reporting this post" and suggesting that Crocs "be stopped." The reactions are as diverse as the boots themselves.
Tess Holliday's Endorsement
Notably, model Tess Holliday chimed in, showing her support for the boots. She exclaimed, "These boots were built for all kinds of stuff, and I need them!" Her endorsement further fuels the conversation surrounding this unconventional footwear.
Crocs: Beyond Clogs
In recent years, Crocs has expanded its product range beyond clogs, introducing various styles, including sandals and heels. This move demonstrates the brand's commitment to diversifying its offerings and catering to different fashion tastes.
In conclusion, regardless of your stance on Crocs, you can't deny that their latest creation is undeniably original and has ignited discussions worldwide. With the Crocs Classic Cowboy Boot, the brand has once again proven that they are unafraid to step out of its comfort zone and redefine the fashion landscape. So, will you be joining the cowboy boot trend and taking to the dance floor in style?